Fargo Pedestrian Accident Lawyers
Representing the Catastrophically Injured in Fargo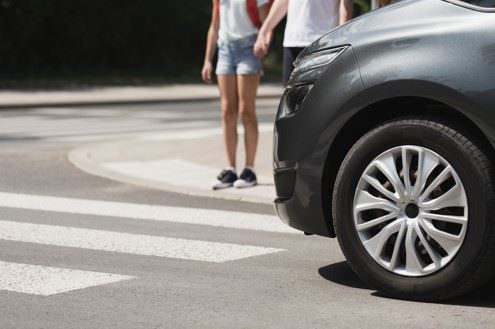 When someone is struck by a driver while they are not in a car themselves, it is known as a pedestrian accident. Not surprisingly, pedestrian accidents are known for often causing catastrophic injuries. As a result, the compensation owed to the injured pedestrian can be steep, and the opposing insurance company will do whatever it can to not pay such a large amount.
Maring Williams Law Office can help you file a pedestrian accident claim if you were hit while walking through Fargo. Our pedestrian accident attorneys in Fargo have decades of collective legal experience that we can use to build your case and pursue the most compensation possible in your name.
We can help you if you were hit by a car while walking along a:
Crosswalk
Sidewalk
Parking lot
Suburban street
Learn more about pedestrian accident claims by dialing (701) 402-6644 now.
What Should You Do If You Get Hit by a Car While Walking?
The actions you take immediately after being in a pedestrian accident are important. Oftentimes, the best evidence to use for a claim can be found in those brief moments.
Let us know if you did any of the following after your pedestrian accident:
Called the police: The police officers who responded to the scene of your accident should create a report that details what they saw. In that report, there could be crucial information that outlines how the driver was liable for the crash. We can connect with the local police department to get a copy of the report.
Took pictures: If you used your smartphone to photograph the scene of the accident, then you might have been the party who got the best evidence of liability. Allow us to review your photos, so we can see how to use them in your claim.
Get contact information: The driver's license and insurance information you collect from the driver who hit you is crucial. Without it, you can't bring a claim against them. This information also can show our Fargo pedestrian accident attorneys if that driver has a history of reckless driving. Also, don't forget to get contact information from eyewitnesses who saw you get hit.
See a doctor: Hopefully, you have already seen a doctor for at least a checkup after your pedestrian accident. If you haven't, then we recommend you head to urgent care next. The doctor's medical examination will solidify the existence of your injuries, making it more difficult for the driver's insurer to try to say you are fabricating your story.
Should you report a near miss to the police, too? If you can get good details about the driver who nearly hit you, then you can probably file a complaint with the police, so they know to look out for a reckless driver. However, it could be difficult to get any such information because most drivers will immediately flee the scene after a near miss.
How Much Compensation Can You Get from a Pedestrian Accident Claim?
The money that you are owed after a pedestrian accident could be significant. It will depend on the severity of your injuries. The worse you have been injured, then the more money you are probably owed.
Compensation that we can demand in your pedestrian accident claim could include:
Past and future medical treatment costs
Past and future lost income and wages
Pain, suffering, and lessened enjoyment of life
Permanent disability and shortened life expectancy
Is the Driver Always At Fault in a Pedestrian vs. Car Accident?
There are some instances where the driver may not be the one primarily at-fault for the accident. For example, if a pedestrian was jaywalking and the driver did not have time to react because the pedestrian stepped out in front of them at the last minute. If you believe that you may have been partially at-fault for your injuries, that doesn't necessarily mean you cannot receive compensation for them. In North Dakota, as long as you are less than 50% responsible for the accident, you can still receive some compensation for your injuries. Contact our attorneys today for more information.
How Do You Start a Pedestrian Accident Case?
Our pedestrian accident lawyers in Fargo make it easy to start a case. All you need to do is dial (701) 402-6644 and request a FREE consultation. During this conversation, we can help determine if your case is legally sound and should be pursued and, if it is, what we can do next to make certain you are starting off in the right direction. We look forward to hearing from you.
Successful Verdicts & Settlements
Victories On Behalf of Our Clients & Community
Car Accident $5.3 Million

Our client suffered severe injuries in a head-on automobile crash when her vehicle was intentionally struck by a vehicle operated by her ex-boyfriend.

Oilfield Accident & Traumatic Brain Injury $19 Million

Our client suffered a traumatic brain injury (TBI), severe burns, and permanent disfigurement when he was involved in a gas explosion in the Bakken oil fields of western North Dakota.

Oilfield Accident & Burn Injury $6 Million

Our client was severely burned and suffered permanent and disabling injuries in an explosion and fire at a well site in the Bakken oil fields of western North Dakota.
Our Values
How We Provide Exceptional Legal Service to Our Cleints
Integrity

We abide by a strong code of ethics in serving our clients & our communities.

Respect

We respect our clients & their time, & we are committed to being responsive to their questions & needs.

Compassion

We care about every client who walks through our doors and will stop at nothing to fight for them.

Professionalism

We have more than 150 years of combined experience - and we're just getting started.

Excellence

We are proud to be one of the region's most-trusted and respected personal injury law firms.

Commitment

We are committed to not only fighting for your recovery, but to guiding you through the entire process.
Client Testimonials
Success Stories From Members of Our Community
- Donna L.

- S.A.

- Nicole A.

- M.B.

- H.D.