Fargo Motorcycle Accident Lawyers
Terrible Wrecks Call for Outstanding Counsel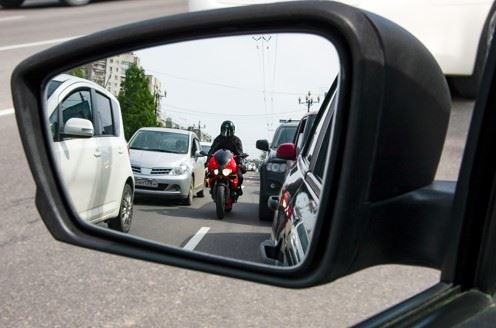 After you have been in a motorcycle accident, you will probably have a lot of questions and concerns on your mind, including "Who can I sue?" It makes sense to be worried about your financial recovery and who is liable for it because the damages associated with the average motorcycle accident case can be steep. Getting compensation can be a trick, though, if the other party wants to deny any liability for what happened.
Maring Williams Law Office in Fargo can help you make the most of your motorcycle accident claim. For over 30 years, our law firm has been helping people in situations just like yours. We have gone up against major insurance companies and won, time and again. Let us see if we can do the same for your case by hiring our motorcycle accident lawyers in Fargo, ND today.
Want to know more? Dial (701) 402-6644 to schedule a free consultation.
Who is Liable in a Motorcycle Accident?
Do you know that the driver who hit you is the one who should be liable for your motorcycle accident? While this is a good starting point, it can only get you so far because that driver and their auto insurance company are probably going to blame you. To prove that you are not liable, it helps to understand the causes of motorcycle accidents and what evidence can be used to establish fair liability.
Common causes of motorcycle accidents include:
Drivers speeding through red lights
Drivers turning left in front of approaching motorcyclists
Drivers not checking mirrors before changing lanes
Drivers refusing to share the road with motorcyclists
In many of these incidents, driver inattention is the root form of negligence that causes the crash. Motorists who are not watching the road and the vehicles around them can look at but not "see" a motorcycle because they have trained their eyes to only acknowledge larger vehicles with two headlights.
What Are the Most Common Motorcycle Accident Injuries?
Motorcyclists depend on their helmets and protective clothing to protect them from injuries in a motorcycle accident. Unfortunately, such protective garments can only do so much to prevent or mitigate injuries. In many wrecks, the motorcyclist will be severely injured.
Life-changing injuries often suffered by motorcyclists in crashes include:
Spinal cord damage or paralysis
Traumatic brain injury (TBI)
Road rash and permanent scarring
Broken bones
What Are the Most Common Causes of Motorcycle Accidents?
There are a number of things that can cause motorcycle accidents. Some involve negligence on the part of other drivers, and some involve negligence on the part of those responsible for maintaining the roads and intersections. Some of the most common causes include:
Failing to check blind spots when changing lanes
Lane-splitting in areas where this is not allowed
Opening a car door suddenly into the path of a motorcyclist
Stopping suddenly
Failing to leave enough room when braking behind a motorcyclist
Failing to yield when making a left-hand turn at an intersection
Poorly maintained roads
Driver inexperience
Defective motorcycles or other vehicles
Drinking and driving
What Kind of Damages Can You Recover?
You can sue the driver who hit you for damages, but how much do you demand? Our team is here to help you calculate a fair value for y our motorcycle accident claim. The value will represent all of your damages combined, and it can be quite a large sum if you have been severely injured.
You might be able to recover damages that help pay for:
Medical bills, including future costs
Lost wages, including future reduced income
Permanent disabilities and associated hardships
Physical pain and mental anguish
We want to make certain that we get as much compensation in your name as we can. Money cannot exactly undo what happened to you, but it can make it easier to move ahead and try to regain a sense of normalcy and comfort again. This is why we are so adamant about maximizing your recovery amount.
Ready to Help You Like We Have So Many Others
Get the Fargo motorcycle accident attorneys of Maring Williams Law Office on your side today if you've been in a wreck. It would be our honor to progress your case, manage all of its aspects, and pursue full compensation in your name. This is what we have done for decades, so you know you can trust in our talents and abilities.
We're ready to assist! Contact our Fargo motorcycle accident lawyers at (701) 402-6644 today.
Successful Verdicts & Settlements
Victories On Behalf of Our Clients & Community
Oilfield Accident & Burn Injury $6 Million

Our client was severely burned and suffered permanent and disabling injuries in an explosion and fire at a well site in the Bakken oil fields of western North Dakota.

Car Accident and Tractor-Trailer Accident $2.25 million

Our client was a passenger in a vehicle that collided with a semi-tractor on a highway.

Rear-Ended Car Accident $2.35 Million

Our client was rear-ended while stopped on the highway and sustained significant injuries to his back, ribs and lung.
Our Values
How We Provide Exceptional Legal Service to Our Cleints
Integrity

We abide by a strong code of ethics in serving our clients & our communities.

Respect

We respect our clients & their time, & we are committed to being responsive to their questions & needs.

Compassion

We care about every client who walks through our doors and will stop at nothing to fight for them.

Professionalism

We have more than 150 years of combined experience - and we're just getting started.

Excellence

We are proud to be one of the region's most-trusted and respected personal injury law firms.

Commitment

We are committed to not only fighting for your recovery, but to guiding you through the entire process.
Client Testimonials
Success Stories From Members of Our Community
- Donna L.

- S.A.

- Nicole A.

- M.B.

- H.D.