All You Need to Know About the Takata Airbag Recall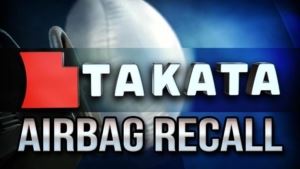 Vehicles made by 19 different automakers have been recalled to replace frontal airbags on the driver's side or passenger's side, or both in what NHTSA has called "the largest and most complex safety recall in U.S. history." The airbags, made by major parts supplier Takata, were mostly installed in cars from model year 2002 through 2015. Some of those airbags could deploy explosively, injuring or even killing car occupants.
At the heart of the problem is the airbag's inflator, a metal cartridge loaded with propellant wafers, which in some cases has ignited with explosive force. If the inflator housing ruptures in a crash, metal shards from the airbag can be sprayed throughout the passenger cabin—a potentially disastrous outcome from a supposedly life-saving device.
NHTSA has determined the root cause of the problem: airbags that use ammonium nitrate-based propellent without a chemical drying agent. As postulated early on, environmental moisture, high temperatures, and age as associated with the defect that can improperly inflate the airbags and even send shrapnel into the occupant. To date, there have been 16 deaths due to this problem in the U.S. Worldwide, NHTSA reports there have been at least 24 deaths and 300 injuries.
Through various announcements, the recall of this defective auto product has tripled in size over the past year. It is expected that the inflator recall will impact more than 41.6 million vehicles in the U.S., involving 56 million inflators.
For millions of vehicles in the recall but not under a stop-driving order, NHTSA has prioritized delivery of parts to models and areas with the highest concentration of Takata incidents, NHTSA told CR.
"It was not possible for all replacement parts to be available right away, and some vehicles were at much higher risk of a dangerous airbag explosion than others," agency spokeswoman Karen Aldana said.
Navigation:
Recall Timeline
March 29, 2019: Honda and NHTSA announce that a driver of a 2002 Honda Civic was in a crash in Buckeye, Ariz., on June 8, 2018. The driver was injured by the ruptured airbag inflator and died in a hospital on June 11, 2018. The automaker says it is the 14th death in a Honda vehicle related to the Takata airbag inflators; 16 people have been killed because of the airbags in the U.S. The driver was the current owner of the Civic and had purchased the car less than three months before the incident.
January 4, 2019: Ford is recalling 782,384 Ford, Lincoln, and Mercury vehicles to have their passenger-side front airbag inflators replaced.
December 12, 2018: Toyota says it will install new, non-Takata airbag inflators in select 2003-2005 Toyota Corolla small cars, 2002-2005 Toyota Sequoia SUVs, 2003-2005 Toyota Tundra pickup trucks and 2002-2005 Lexus SC cars. A Toyota spokeswoman says that this action is being done a year ahead of schedule, because it has the replacement parts it needs to do the work now.
October 24, 2018: Mazda expanded its airbag recall to add certain 2010-2012 CX-7 and 2010-2015 CX-9 SUVs, and 2010-2013 Mazda6 sedans.
July 17, 2018: Ford's class-action settlement agreement over Takata airbags promises to give consumers some relief. It's the seventh such deal cut by the class-action attorneys handling claims against the 19 car companies. The owners of Ford vehicles who agree to the deal will receive free loaner cars while waiting for their Takata repairs, as well as small cash payments for their out-of-pocket expenses.
June 7, 2018: NHTSA has urged Florida car owners to check their Vehicle Identification Number (VIN) to see if their car is involved and if so, to take action. There is concern that South Florida, in particular, is a high risk area due to the weather and completion rate. "I am deeply concerned over the high number of unrepaired defective air bags in vehicles here in South Florida," said King. "I cannot stress strongly enough the urgency of this recall – these air bags can be deadly. If your vehicle is under recall, do not delay in getting it to your dealer for a free repair. It could save your life or the life of someone you love."
March 20, 2018: Senate report highlights that only six of the 17 automakers involved in the wide-ranging Takata airbag recall have adequate loaner car policies for customers that are waiting for parts to become available. The companies that have the most comprehensive loaner policies with the fewest restrictions are BMW, Fiat Chrysler, Honda, Nissan, Subaru, and Toyota.
February 23, 2018: A U.S. bankruptcy judge in Delaware approved a plan negotiated by Takata and its creditors to create a trust fund to compensate the victims of exploding airbag inflators. Automakers are giving up some monetary claims against Takata and agreeing to contribute $90 million to $137 million to the trust fund.
February 12, 2018: New advisory raises the number of 2006 Rangers involved to 30,603 in the U.S., says NHTSA. Mazda is expanding its advisory to include 1,955 B-Series pickup trucks from model year 2006, up from the original 160. These vehicles are under a rare stop-driving recall, with federal regulators urging owners to tow them to dealers to have Takata airbag inflators replaced.
January 11, 2018: NHTSA advises owners of 2006 Ford Ranger pickup trucks to stop driving them after the agency confirmed a second Takata airbag-related death involving the specific truck and model year.
January 9, 2018: Takata expanded its already massive recall by an additional 3.3 million airbag inflators over the same concerns that they might explode and spray dangerous metal fragments into the vehicle's cabin. This was the third of five planned recalls. More vehicles are scheduled to be recalled later.
July 11, 2017: Takata announces recall action will add 2.7 million vehicles from Ford, Mazda, and Nissan that use airbag inflators that contain calcium sulfate, a chemical that serves as a drying agent.
June 26, 2017: Takata files for bankruptcy.
March 2, 2017: Ford recalls 32,000 2016-17 Ford Edge, 2016-17 Lincoln MKX and 2017 Lincoln Continental vehicles to replace the driver frontal airbag module.
February 28, 2017: Takata has finally pleaded guilty to deceiving automakers about the safety of its airbags. Now automakers are disputing charges that they knowingly installed the defective airbags in their cars.
January 12, 2017: Reports of an expected $1 billion penalty against Takata are published, with the expectation that $25 million will be a criminal penalty and $850 million would be paid as restitution to automakers impacted by the recall.
Ford expands its recall to 816,000 Ford, Lincoln, and Mercury vehicle made in North America, including 654,695 sold in the U.S. Most vehicles were included included in prior recall actions, but this move adds the passenger-side airbag inflators.
Toyota also expands its recalls to 543,000 additional vehicles in the U.S., including both Toyota and Lexus brand models, to address front passenger airbags. Notably, this adds the 2012 model year to the recall list for many vehicles.
December 9, 2016: A more aggressive recall schedule was announced by the Department of Transportation, with priority given to the riskiest models.
October 20, 2016: NHTSA confirms the 11th fatality. It occured in a 2001 Honda Civic, a vehicle that was recalled in 2008. The recall had not been performed on this specific car. Nine of the 11 Takata-related deaths in the U.S. have occured in Acura and Honda models. Honda reports that there are just under 300,000 affected vehicles that have not been repaired or accounted for. Key lesson: Take recall notices seriously.
July 22, 2016: Mazda announced that it is recalling additional B-Series pickup trucks from the 2007 to 2009 model years. The recall covers passenger airbags.
June 30, 2016: NHTSA announces that certain 2001-2003 Honda and Acura models have a much higher risk of ruptures during airbag deployments. U.S. Transportation Secretary Anthony Foxx said in a statement, "Folks should not drive these vehicles unless they are going straight to a dealer to have them repaired immediately, free of charge." The affected models are listed below.
June 21, 2016: Fiat Chrysler Automobiles announces it will end NAFTA-market production of vehicles with non-desiccated amomonium-nitrate Takata air bag inflators by the end of June, with global production to end by mid-September. The 2016 Jeep Wrangler uses this type of inflator in the passenger-side airbag. Customers will be advised of vehicles that are so-equipped, and will be advised that the vehicles will be recalled in the future.
June 14, 2016: Mitsubishi, Toyota, and Volkswagen have all confirmed the new vehicles they are selling that contain Takata's ammonium nitrate-based propellant in driver and/or passenger frontal airbag inflators without a chemical drying agent, also known as a desiccant. These vehicles are listed below. Fiat Chrysler has yet to announce which vehicle they are selling with this type of airbag. While none of the models are part of the current recall, they all will have to be recalled by 2018. According to NHTSA, as of May 20, 2016, a total of 8,432,805 airbags have been replaced.
June 2, 2016: Audi, BMW, General Motors, Jaguar/Land Rover, and Mercedes-Benz have added nearly 2.5 million more U.S. vehicles to the list of cars with defective Takata airbags.
June 1, 2016: Fiat Chrysler, Mitsubishi, Toyota, and Volkswagen confirm in a report from Florida Senator Bill Nelson (PDF) that they are selling some new vehicles with airbags that contain Takata's ammonium nitrate-based propellant in driver and passenger frontal airbag inflators without a chemical drying agent, also known as a desiccant. These vehicles will have to be recalled by 2018.
May 4, 2016: The massive Takata airbag recall is more than doubling in size, with NHTSA announcing that it is expanding the recall to include 35-40 million airbag inflators to be replaced through 2019. This tally is in addition to the 28.8 million airbags already recalled. Thus far, NHTSA shows that 8,168,860 airbags have been replaced.
April 13, 2016: Regulators state that there are 85 million potentially defective, unrecalled Takata airbag inflators that will need to be recalled—unless Takata can prove they are safe. So far, the recall has included 28.8 million airbags in the U.S.
April 7, 2016: A 17-year-old girl from Texas named as the 10th U.S. victim. She was driving a 2002 Honda Civic. Her death is attributed to shrapnel from the exploding airbag striking her neck. NHTSA shows that 7,522,533 airbags have been repaired.
February 12, 2016: NHTSA expands its list of impacted models. Thus far, 7,122,510 airbags have been repaired.
December 23, 2015: NHTSA announces another U.S. fatality due to the questionable Takata airbag inflator, underscoring the need for consumer to have their cars repaired as soon as possible. Further, there have been changes to the official list of affected vehicles, which are reflected in this omnibus story.
November 3, 2015: NHTSA imposes a record civil penalty of up to $200 million against Takata. (Of that, $70 million is a cash penalty, with an additional $130 million charge if Takata fails to meet its commitments.) Plus, the government agency requires Takata to phase out the manufacturer and sale of inflators that use the risky propellant and recall all Takata ammonium nitrate inflators currently on the road—unless the company can prove they are safe or can show it has determined why its inflators are prone to rupture.
October 9, 2015: Honda releases an update on the Takata airbag recall, stating its progress in reaching out to consumers and its recall repair completion rate.
June 19, 2015: NHTSA and Honda confirm that an 8th fatality was attributable to a Takata airbag rupture, which took place in Los Angeles in September of 2014. The car was identified as a rented 2001 Honda Civic. Honda said the car had been under recall since 2009 but that various owners, including the small rental company in Los Angeles, had failed to have the repairs made.
June 17, 2015: NHTSA VIN look-up tool is updated to include all affected models. Often, there can be a slight delay between announcements and when data is available.
June 16, 2015: Toyota expands years for recall on previously announced models, adding 1,365,000 additional vehicles.
June 15, 2015: Honda expands national recall on Honda Accord.
June 15, 2015: NHTSA and Honda confirm that Takata airbag rupture was implicated in a seventh death. The driver of a 2005 Honda Civic was fatally injured following a crash on April 5, in Louisiana.
June 4, 2015: Reuters reports that at least 400,000 replaced airbag inflators will need to be recalled and replaced again.
May 29, 2015: Chrysler, Mitsubishi, Subaru, and General Motors added the vehicle identification numbers (VIN) of the impacted vehicles to their recall websites.
May 28, 2015: NHTSA and vehicle manufacturers revealed the additional models included in previous recall announcements.
May 19, 2015: DOT released a statement saying that Takata acknowledges airbag inflators it produced for certain vehicles were faulty. It expanded certain regional recalls to national ones, and included inflators fitted in certain Daimler Trucks in the recalled vehicles. In all, the recall was expanded to a staggering 33.8 million vehicles. That number includes the roughly 17 million vehicles previously recalled by affected automakers.
February 20, 2015: NHTSA fined Takata $14,000 per day for not cooperating fully with the agency's investigation into the airbag problems.
January 18, 2015: The driver of a 2002 Honda Accord became the fifth person in the United States thought to have been killed by an exploding airbag inflator.
December 18, 2014: Ford issued a statement adding an additional 447,310 vehicles to the recall.
December 9, 2014: Honda issued a statement saying it will comply with NHTSA and expand its recall to a national level. This brings the number of affected Honda/Acura vehicles to 5.4 million.
November 18, 2014: NHTSA called for the recalls to be expanded to a national level.
November 7, 2014: New York Times published a report claiming Takata was aware of dangerous defects with its airbags years before the company filed paperwork with federal regulators.
Putting the Dangers in Perspective
Fifteen fatalities and more than 100 injuries have been linked to the Takata airbags in the U.S., and in some cases the incidents were horrific, with metal shards penetrating a driver's face and neck. As awful as they are, such incidents are very rare. In June of 2015, Takata stated that it was aware of 88 ruptures in total: 67 on the driver's side and 21 on the passenger's side out of what it calculated was just over 1.2 million airbag deployments spread over 15 years. Despite these figures, airbags in general are not a danger. The Department of Transportation estimates that between 1987 and 2012, frontal airbags have saved 37,000 lives.
Based on information provided by Takata and acting under a special campaign by NHTSA, the involved automakers are responding to this safety risk by recalling all vehicles that have these specific airbags. While the automakers are prioritizing resources by focusing on high-humidity areas, they shouldn't stop there. We encourage a national approach to the risks, as vehicles tend to travel across state borders, especially in the used-car market.
For a historical perspective, AutoSafety.org has compiled a list of airbag recalls over time.
What Is Taking So Long for My Airbag to Arrive?
As of Jan. 2018, NHTSA says that airbag shortages have eased significantly. At first, many affected owners learned that it could take weeks or months for their replacement airbags to arrive. Takata has ramped up and added to its assembly lines to be able to produces a million replacement kits per month. But given the scale of this recall, and the reality that some airbags may have to be replaced a second time, this recall will take years to get all of the millions of replacement airbags produced and installed into affected vehicles.
Will the Takata Bankruptcy Filing Stop Me From Getting My Replacement Airbags?
No. Those replacements should happen in the same time frame as before. Takata plans to maintain control of the airbag business and not slow production until the demand for replacement airbags has been met.
Can Other Suppliers Step in to Fill the Gaps?
Other major suppliers are now involved, including AutoLiv, TRW, and Daicel. Takata has said that it is now using competitors' products in half the inflator-replacement kits it is churning out, and expects that number to reach more than 70 percent. Those rival suppliers also use a propellant that hasn't been implicated in the problems Takata has experienced.
How Important is it That I Respond to the Recall?
All recalls, by definition, are concerned with safety and should be treated seriously. As with all recalls, we recommend having the work performed as soon as parts are available and the service can be scheduled. Since age has been established as a key factor in most of the Takata airbag ruptures to date, it's especially important for owners of older recalled cars to get this work done. All recall work will have to be performed at a franchised dealership. Independent mechanics can't perform recall work.
Does It Matter Where I Live?
According to NHTSA, yes. The Takata inflators seem to be vulnerable to persistent high humidity and high temperature conditions, such as in Florida, Georgia, South Carolina, the Gulf Coast states, Hawaii, and island territories. However, since a number of confirmed deaths have occured in places outside the priority recall area, this recall should not be ignored.
NHTSA organizes the American states and territories into three zones, as follows:
Zone A includes Alabama, California, Florida, Georgia, Hawaii, Louisiana, Mississippi, South Carolina, Texas, Puerto Rico, American Samoa, Guam, the Northern Mariana Islands (Saipan), and the U.S. Virgin Islands.
Zone B includes Arizona, Arkansas, Delaware, District of Columbia, Illinois, Indiana, Kansas, Kentucky, Maryland, Missouri, Nebraska, Nevada, New Jersey, New Mexico, North Carolina, Ohio, Oklahoma, Pennsylvania, Tennessee, Virginia, and West Virginia.
Zone C includes Alaska, Colorado, Connecticut, Idaho, Iowa, Maine, Massachusetts, Michigan, Minnesota, Montana, New Hampshire, New York, North Dakota, Oregon, Rhode Island, South Dakota, Utah, Vermont, Washington, Wisconsin, and Wyoming.
How Are Repairs Being Prioritized?
Automakers are getting the replacement parts as fast as they can, and most are sending them to the high-humidity areas first. Northern and less-humid areas might need to wait longer for parts availability, depending on the brand. Contact your dealership to learn how soon the work can be performed. Keep in mind that, while you may not live in or have your car registered in one of the impated or priority zones, if it was previously owned by someone else, it may have spent time in one of them. In cases such as that, it's subject to one of these recalls.
What If I Spend Only a Certain Part of the Year in a Humid Climate?
People who travel to the higher-risk areas in times of low humidity (such as snowbirds) are not at the same level of risk as those who live in those areas year-round, according to NHTSA. The agency is working with automakers to prioritize distribution and repairs.
Are the Airbags in My Car Definitely Defective?
No. Since 2002 only a very small number of some 37 million cars have been involved in these incidents. Between November 2014 and May 2015, Takata reported to NHTSA that the company had conducted more than 30,000 ballistic tests on airbag inflators returned pursuant to the recalls. In those tests, 265 ruptured. That is an unacceptably high number, and, at 0.8 percent, a far higher frequency than what has been seen so far in vehicles on the road. According to defect reports filed with the government, Takata said that as of May 2015 it was aware of 84 ruptures that had occurred in the field since 2002.
I'm Worried About Driving, What Should I Do Until the Fix Is Made?
If the recall on your car involves only the front passenger-side airbag, then don't let anyone sit in that seat. But if you use the VIN-lookup tool and it says that the problem involves the driver's side, you should do what you can to minimize your risk. If possible, consider:
Minimizing your driving.
Carpooling with someone whose vehicle is not affected by the recall.
Utilizing public transportation.
Renting a car.
Renting a car until yours is repaired can prove expensive and ultimately might not be the ideal solution. Asking your dealer whether they will provide one, or a loaner vehicle might be worth a try if it accomplishes nothing else than putting some pressure on the manufacturer. If you do get a rental car, as with any new vehicle or rental, take some time to familiarize yourself with its operation before driving.
Will My Dealer Give Me a Loaner While I Wait for a New Airbag?
It depends. Some consumers have joined class-action lawsuits to attempt to get compensation. One suit, brought on behalf of BMW, Mazda, Subaru, and Toyota owners, reached a preliminary settlement in early June, 2017. Under the terms of that settlement, members of that class would get cash payments and loaner cars until replacement parts become available.
Will I Have to Pay to Get the Recall Fixed?
Repairs conducted under the recall are free, but unrelated problems discovered during the service may not be.
Specific Car Manufacturer Recalls
BMW
Affected owners in Florida, Hawaii, or Puerto Rico have been prioritized in this recall and will receive parts first. If you live in these regions, make sure to contact your local BMW dealer immediately to schedule an appointment to have your front driver and/or passenger airbag replaced. BMW recommends that no one sit in the front passenger seat until that airbag is replaced.
Recalled cars:
2008-2013 BMW 1 Series
2000-2013 BMW 3 Series
2001-2003 BMW 5 Series
2013-2015 BMW X1
2007-2010 BMW X3
2001-2003, 2007-2013 BMW X5
2008-2014 BMW X6
2010-2011 BMW X6 Hybrid
Chrysler
Chrysler will notify the Chrysler, Dodge, Jeep and RAM owners. Sterling and Mitsubishi owners will be notified by their respective companies. Dealers will replace the passenger frontal air bag inflator, free of charge. A notification schedule has not yet been provided, but FCA says that vehicles currently or previously registered in areas identified with high absolute humidity (Zone 1 areas) will be targeted first. Owners may contact Chrysler customer service at 1-800-853-1403. Chrysler's number for this recall is S43.
Recalled cars:
Chrysler
2005-2015 Chrysler 300
2007-2009 Chrysler Aspen
2007-2008 Chrysler Crossfire
Dodge
2008-2014 Dodge Challenger
2006-2015 Dodge Charger
2005-2011 Dodge Dakota
2004-2009 Dodge Durango
2005-2008 Dodge Magnum
2003-2008 Dodge Ram 1500/2500/3500 Pickup
2005-2009 Dodge Ram 2500 Pickup
2007-2010 Dodge Ram 3500 Cab Chassis
2006-2009 Dodge Ram 3500 Pickup
2008-2010 Dodge Ram 4500/5500 Cab Chassis
Jeep
2007-2016 Jeep Wrangler
Ferrari
Ferrari will notify owners, and dealers will replace the passenger frontal air bag assembly, free of charge. The manufacturer has not yet provided a notification schedule. Owners may contact Ferrari customer service at 1-866-551-2828. Ferrari's number for this recall is 60.
Recalled cars:
2010-2015 Ferrari 458 Italia
2014-2015 Ferrari 458 Speciale
2015 Ferrari 458 Speciale A
2012-2015 Ferrari 458 Spider
2016-2017 Ferrari 488 GTB
2016-2017 Ferrari 488 Spider
2009-2014 Ferrari California
2015-2017 Ferrari California T
2013-2017 Ferrari F12
2016-2017 Ferrari F12 tdf
2016 Ferrari F60
2012-2016 Ferrari FF
2017 Ferrari GTC4Lusso
Ford
Contact your local Ford or Lincoln dealer to schedule an appointment to have the airbag replaced in affected vehicles. Visit the Ford Owner website to see if your vehicle is part of the recall.
Recalled cars:
Ford
2007-2010 Ford Edge
2006-2012 Ford Fusion
2005-2006 Ford GT
2005-2014 Ford Mustang
2004-2011 Ford Ranger
Lincoln
2007-2010 Lincoln MKX
2006-2012 Lincoln Zephyr/MKZ
Mercury
2006-2012 Milan
General Motors
Double check that your vehicle is actually involved. It was first announced that many Buicks, Cadillacs, and Oldsmobiles were affected by the recall. It turns out that was an error in reporting by NHTSA. Most of those vehicles were part of an unrelated recall years ago.
Interestingly, the two remaining vehicles were actually produced by other automakers and rebranded under former GM makes: the 2003-2005 Pontiac Vibe (built alongside the Toyota Matrix) and the 2005 Saab 9-2x (a Subaru-built vehicle rebranded as a Saab). Both vehicles should be taken to a current GM dealership for repairs.
Recalled cars:
Cadillac
2007-2014 Cadillac Escalade
2007-2014 Cadillac Escalade ESV
2007-2013 Cadillac Escalade EXT
Chevrolet
2007-2013 Chevrolet Avalanche
2007-2014 Chevrolet Silverado HD
2007-2013 Chevrolet Silverado LD
2007-2014 Chevrolet Suburban
2007-2014 Chevrolet Tahoe
GMC
2007-2014 GMC Sierra HD
2007-2013 GMC Sierra LD
2007-2014 GMC Yukon
2007-2014 GMC Yukon XL
Pontiac
2003-2010 Pontiac Vibe
Saab
2005-2006 Saab 9-2x
2006-2011 Saab 9-3
2006-2009 Saab 9-5
Saturn
2008-2009 Saturn Astra
Honda
If you haven't already, go to Honda's recall site and enter your VIN. If your vehicle is included in this recall, the site will provide a description of the problem and instructions on how to proceed.
NHTSA has determined that certain model-year 2001-2003 Honda and Acura vehicles have a much greater risk of ruptures during airbag deployment. In fact, nine of the first 11 Takata-related deaths in the U.S. were in Acura and Honda vehicles. These high-risk models are listed separately below.
If you have a vehicle that was first sold in, or is registered in Alabama, California, Florida, Georgia, Hawaii, Louisiana, Mississippi, South Carolina, Texas, Puerto Rico, or the U.S. Virgin Islands—take immediate action. If you haven't already received notice in the mail, print out the results of your VIN search and contact your nearest Honda dealer. They have allocated the replacement parts to these high humidity areas and will replace the part once you've made an appointment. Honda will be sending notices to other areas on a rolling basis as the parts become available.
Recalled cars:
Acura
2003 Acura 3.2CL
2002-2003 Acura 3.2TL
2013-2016 Acura ILX
2013-2014 Acura ILX Hybrid
2003-2006 Acura MDX
2007-2016 Acura RDX
2005-2012 Acura RL
2009-2014 Acura TL
2009-2014 Acura TSX
2010-2013 Acura ZDX
Honda
2001-2012 Honda Accord
2001-2011 Honda Civic
2003-2011 Honda Civic Hybrid
2001-2011 Honda Civic NGV
2010-2015 Honda Crosstour
2002-2011 Honda CR-V
2011-2015 Honda CR-Z
2003-2011 Honda Element
2010-2014 Honda FCX Clarity
2007-2013 Honda Fit
2013-2014 Honda Fit EV
2010-2014 Honda Insight
2002-2004 Honda Odyssey
2003-2015 Honda Pilot
2006-2014 Honda Ridgeline
2006-2010 Honda GL1800 Gold Wing (motorcycle)
High-Risk Models
2001-2002 Honda Civic
2001-2002 Honda Accord
2002-2003 Acura TL
2002 Honda CR-V
2002 Honda Odyssey
2003 Acura CL
2003 Honda Pilot
Jaguar/Land Rover
Jaguar Land Rover North America, LLC is recalling certain model years of the Jaguar XF originally sold, or ever registered, in Alabama, California, Florida, Georgia, Hawaii, Louisiana, Mississippi, South Carolina, Texas, Puerto Rico, American Samoa, Guam, the Northern Mariana Islands (Saipan), and the U.S. Virgin Islands. Vehicles not originally sold or ever registered in these states are not subject to this safety recall. For more information, contact the Jaguar Customer Relationship Center at 1-800-452-4827 or the Land Rover customer center.
Recalled cars:
2009-2015 Jaguar XF
2007-2012 Land Rover Range Rover
Mazda
Owners should go to Mazda's recall site (https://www.mazdarecallinfo.com/) and enter the car's VIN. If your vehicle is included in this recall, the site will provide a description of the problem and instructions on how to proceed. If the site indicates that repair parts are available, the appointment button on the site links to your local dealer so you can easily set up a repair appointment. There is no charge for this repair. NHTSA has determined that the age and location of a vehicle can increase the risk of rupture. Vehicles sold or ever registered in a high absolute humidity (HAH) area (Florida, Hawaii, Alabama, Georgia, Louisiana, Mississippi, Texas, Puerto Rico, Guam, Saipan, American Samoa, and Virgin Islands) and/or Mazda vehicles 2003-2007 are considered high priority—immediate action should be taken. If you haven't received a notice in the mail, print out the results of your VIN search and contact your nearest Mazda dealer. Replacement parts have been prioritized to the high humidity areas and dealers will replace the part once you've made an appointment. The recall includes all states and Mazda will be sending notices to areas on a rolling basis as parts become available.
Recalled cars:
2004-2009 Mazda B-Series
2007-2012 Mazda CX-7
2007-2015 Mazda CX-9
2003-2015 Mazda6
2006-2007 Mazda Mazdaspeed6
2004-2006 Mazda MPV
2004-2011 Mazda RX-8
Mercedes-Benz
Mercedes-Benz uses Takata driver-side and passenger-side airbags in many vehicles and, is recalling vehicles which use the affected airbags. Should owners need additional assistance, visit https://www.mbusa.com/en/home, and use the "Email/Write" section under Customer Support, or call 877-496-3691.
Recalled cars:
2005-2015 Mercedes-Benz C-Class
2010-2011 Mercedes-Benz E-Class
2011-2017 Mercedes-Benz E-Class Cabrio
2010-2017 Mercedes-Benz E-Class Coupe
2009-2012 Mercedes-Benz GL-Class
2010-2015 Mercedes-Benz GLK-Class
2009-2011 Mercedes-Benz ML-Class
2009-2012 Mercedes-Benz R-Class
2007-2008 Mercedes-Benz SLK-Class
2011-2015 Mercedes-Benz SLS-Class
Mitsubishi
If you see that your car as part of this recall, Mitsubishi advises owners to act immediately in scheduling an appointment to replace it. If the dealer does not have the part yet, they will provide instructions on how best to proceed until the part is available.
Recalled cars:
2012, 2014, 2016, 2017 Mitsubishi i-MiEV
2004-2007 Mitsubishi Lancer
2004-2006 Mitsubishi Lancer Evolution
2004 Mitsubishi Lancer Sportback
2006-2009 Mitsubishi Raider
Nissan
Nissan has notified or will be notifying owners of affected vehicles to bring their vehicle in for inspection and potential parts replacement. Extra attention is being paid to "some areas" of Florida, Hawaii, Puerto Rico, or the U.S. Virgin Islands, but the recall covers every state, the District of Columbia, and some American territories.
Recalled cars:
Infiniti
2003-2008 Infiniti FX
2001 Infiniti I30
2002-2004 Infiniti I35
2006-2010 Infiniti M
2002-2003 Infiniti QX4
Nissan
2001-2003 Nissan Maxima
2002-2004 Nissan Pathfinder
2002-2006 Nissan Sentra
2007-2012 Nissan Versa
Subaru
Call your local Subaru dealer and schedule an appointment to have the airbag replaced. There is no wait for parts to arrive and no special emphasis on localized climates or regions. Because second owners may not know where the previous owner of their vehicle lived/drove, Subaru does not want to focus on any particular region.
Recalled cars:
2003-2006 Subaru Baja
2009-2013 Subaru Forester
2004-2011 Subaru Impreza (Including WRX/STI)
2003-2014 Subaru Legacy
2003-2014 Subaru Outback
2006-2014 Subaru Tribeca
2012-2014 Subaru WRX/STI
Toyota
Immediate action is recommended if your vehicle registered in the coastal areas around the Gulf of Mexico, including Alabama, Georgia, Louisiana, Mississippi, and Texas. Or if the car is in Florida, Puerto Rico, Guam, Saipan, American Samoa, Virgin Islands and Hawaii.
When the parts become available, owners will be notified by mail to bring their vehicle in for the proper fix.
Finally, if you are uncomfortable driving your vehicle to the dealership to have the work performed, contact your local Toyota dealer, and they will arrange to have the vehicle picked up.
Recalled cars:
Lexus
2007-2012 Lexus ES350
2010-2017 Lexus GX460
2006-2013 Lexus IS250/350
2010-2015 Lexus IS250C/350C
2008-2014 Lexus IS F
2012 Lexus LFA
2002-2010 Lexus SC430
Scion
2008-2015 Scion xB
Toyota
2010-2016 Toyota 4Runner
2003-2013 Toyota Corolla
2003-2008 Toyota Corolla Matrix
2009-2013 Toyota Matrix
2004-2005 Toyota Rav4
2002-2007 Toyota Sequoia
2011-2014 Toyota Sienna
2003-2006 Toyota Tundra
2006-2011 Toyota Yaris (Hatchback)
2007-2012 Toyota Yaris (Sedan)
Volkswagen/Audi
Recalled cars:
Audi
2006-2013 Audi A3
2005-2008 Audi A4 Avant
2007-2009 Audi A4 Cabriolet
2005-2008 Audi A4 Sedan
2010-2012 Audi A5 Cabriolet
2006-2011 Audi A6 Avant
2005-2011 Audi A6 Sedan
2009-2012 Audi Q5
2017 Audi R8
2008 Audi RS 4 Cabriolet
2007-2008 Audi RS 4 Sedan
2005-2008 Audi S4 Avant
2007-2009 Audi S4 Cabriolet
2005-2008 Audi S4 Sedan
2010-2012 Audi S5 Cabriolet
2007-2011 Audi S6 Sedan
2016-2017 Audi TT
Volkswagen
2009-2017 Volkswagen CC
2010-2014 Volkswagen Eos
2010-2014 Volkswagen Golf
2013 Volkswagen Golf R
2009-2013 Volkswagen GTI
2012-2014 Volkswagen Passat
2006-2010 Volkswagen Passat Sedan
2006-2010 Volkswagen Passat Wagon
Source: Consumerreports.com
If you have suffered an injury as a result of a defective airbag, please reach out to Maring Williams Law Office as soon as possible to discuss your injuries in a free consultation.