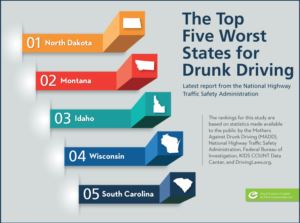 North Dakota has topped several lists for drunk driving, with statistics ranking the state high for the rate of alcohol-related deaths.
But the number of deaths and injuries related to driving under the influence has dropped in recent years, according to numbers from the North Dakota Department of Transportation. Drunk-driving fatalities in North Dakota decreased from 71 in 2013 to 55 last year, according to the 2017 crash summary issued this year by the DOT. That number was up by six compared to 2016, according to the report.
Injuries also have decreased over that five-year period, from 624 in 2013 to 472 last year, the report said. The state reported 446 alcohol-related injuries in 2016.
State leaders hope a program geared at educating the public on the dangers of getting behind the wheel after consuming several drinks will cut back on DUIs and, in turn, reduce fatalities.
Jan. 18 will mark the one-year anniversary for North Dakota launching Vision Zero, a collaborative initiative aimed at working toward zero fatalities and serious injuries that are the result of preventable driving habits.
"It's a vision-zero strategy where we're aiming to establish a culture of personal responsibility," said Ashlee Doan, safety public information specialist at the DOT, which launched Vision Zero in partnership with the state Department of Health, the North Dakota Highway Patrol, and Gov. Doug Burgum's Office.
As of Dec. 16, North Dakota reported 101 vehicle fatalities, with 31 alcohol-related deaths, Doan said as she cited preliminary numbers. That was down from 116 vehicle deaths, with 55 alcohol-related fatalities, by the same time last year, Doan said.
It's hard to attribute the education of Vision Zero to the reduction in fatalities, Doan said, but she hopes it has helped.
"I do feel like there's some sort of a change coming about where it's not cool to do it," she said.
Rate of alcohol-related deaths
Drunk-driving deaths accounted for between 40 and 50 percent of crash deaths in North Dakota from 2013 to 2017, according to the DOT. Last year's rate came in at 49 percent, a five-year high that beat out 2013's report of 48 percent, the DOT said.
Those numbers were typically higher than those reported by the U.S. Department of Transportation, which said in its November report that 40 percent of North Dakota's crash fatalities happened because a driver had a blood alcohol content of at least 0.08 percent. Of the 50 states, North Dakota ranked third behind Connecticut (43 percent) and Rhode Island (41 percent), the report said.
Minnesota's alcohol-impaired driving fatalities rate was 24 percent in 2017, the report said.
Aside from 2015, North Dakota landed in the top 5 for alcohol-impaired-driving fatalities by percentage in the the last five annual reports issued by the federal government.
Online studies also have ranked North Dakota high for drunk driving or drinking in general, but the lists don't always compare "apples to apples," Doan said.
"Some of them compare per capita, where another report is vehicle-miles traveled," she said.
Those looking at data that compare the rate of alcohol-impaired-driving fatalities by state should take into consideration other factors, Grand Forks Police Lt. Derik Zimmel said. For example, more congested areas may have more fatalities in a single crash, where North Dakota's rural nature may not result in as many deaths.
That could skew the percentage against North Dakota.
"When we talk about the fatalities on the roadway, we don't have necessarily the congestion that is seen in bigger cities," Zimmel said.
Drop in arrests
North Dakota's DUI arrests have dropped significantly since 2013, according to the state Bureau of Criminal Investigation report. In 2017, law enforcement agencies reported a total of 5,597 arrests for drunk driving, which was a 3.5 percent increase from 2016 but a 21 percent decrease from 2013's count of 7,117.
In Grand Forks, DUI arrests have been declining over the last five years, according to the BCI. The Police Department issued 235 drunk-driving citations in 2013, a number that has dropped to 135 in 2017, the BCI said in annual reports.
Grand Forks officers had issued 118 DUIs as of Nov. 30, the Police Department said. UND Police reported 56 DUI arrests in the same time period. That's down from the 2017 count of 69 but up from the 2013 total of 56, according to the BCI.
Grand Forks has the patrols to look out for drunk drivers, thanks in part to long-standing grant funding from the NDDOT that allows the city's police department to dedicate officers strictly to looking for signs of drunk driving, Zimmel said. The culture appears to have improved over the years in North Dakota, he said.
"I think maybe part of that can be attributed to the increased options as far as services available to get people home," he said. "It used to be there were only a couple of cab companies in town. If you had the misfortune of waiting until bar-close, it might be a two-hour wait for a ride home. Nobody wants to wait on the sidewalk for two hours in January."
Several years ago, more residents may have driven home if they had been drinking instead of waiting long periods of time for a ride home, Zimmel said. But ride-sharing companies Uber and Lyft came to Grand Forks in early 2017, giving residents more access to transportation.
Public education efforts over the last several decades also have helped change the culture, Zimmel said.
"The people just starting out in their early to mid-20s right now have grown up in a culture where the message has been, 'Don't drink and drive,' " he said.
Zero fatalities may not be realistic, but it is an honorable goal to work toward, Zimmel said, noting alcohol-related crashes are 100 percent preventable.
Reaching that goal, or at least reducing the number of alcohol-related crash fatalities, is a collaborative effort.
"You can't necessarily arrest your way out of a problem," he said. "What we hope for is people move toward voluntary compliance.
Source: grandforksherald.com
Were you injured in a drunk driving accident in North Dakota? Contact Maring Williams Law Office today to find out how we can help.