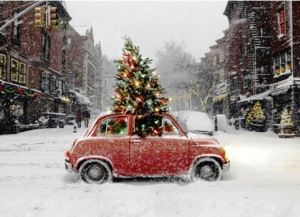 Christmas should be a time for spending quality time with family. But as we all know, traveling to go see those family members can often be stressful. MWLO has teamed up with Skyscanner.com to provide you with 10 tips for stress-free Christmas travel.
1. Check all travel documents
Make your travel check lists, check them once, check them twice, check them as many times as it takes to ensure you don't end up presenting an expired passport at airport check-in. If it is valid then be aware that some destinations require you to have at least six months on it, otherwise you may get a less than festive welcome at immigration. Visa requirements can be tricky too, so organize necessary paperwork before you leave the house and make any mandatory arrangements prior to flying.
2. Label your luggage
It may seem old school, with airline electronic tagging these days. But labelling luggage yourself may just save you the heartache of losing it and turning up empty-handed on the 25th. Before jetting off write the address of your destination hotel on the front of the tag and your home address on the inside. If your bag does disappear, it's best to have an email or phone number on the label, just so that you're not relying solely on snail mail to get it returned to you. Avoid running off with someone else's bag and potentially ruining Christmas by attaching something identifiable to your, like some colored ribbon, or a bit of tinsel.
3. Print off the name and address of your hotel
Avoid standing around looking like an awkward tourist at the terminal taxi rank, trying to second guess where your hotel may be. Print out the name and address of your hotel and screenshot directions on your phone or tablet to show the taxi driver, in case he's as much in the dark as you are. Also consider taking your hotel reservation voucher to ensure a smooth and speedy check-in process once you finally arrive.
4. Remember chargers and adapters
Akin to Christmas being cancelled, it would be a disaster if you couldn't take a selfie in a Santa hat or Insta that shot of a flaming Christmas pud. So make sure to pack all chargers for any electrical equipment you plan to take with you, including phones, laptops and the right adaptor for your destination. You can't go wrong with a universal adaptor, that way you'll be able to check those important work emails while you're off spreading Christmas cheer.
5. Pack light
You won't be travelling with Santa's sleigh, so leave any unnecessary items at home. It'll save you the stress of having to maneuver through airport crowds, pay any excess baggage fees or haul it off the carousel at the other end. As long as you've got the novelty Christmas jumper and the elasticated trousers for when you've over-indulged at lunch, the rest can stay behind.
6. Have liquids in a Ziploc and laptops ready to go
Security queues at the airport can be longer than Santa's naughty list during the festive period, with so many more people trying to get home. Save time by having all liquids in 100ml containers organized in to one see-through re-sealable plastic bag. Take a spare bag and avoid having to pay for one at the airport. Similarly, pack your laptop or other electrical equipment somewhere accessible so you can whip it out as soon as you get to the checkpoint. This way you'll speed through security and be browsing last minute Duty Free Christmas gifts in no time.
7. Travel at a reasonable time
Let's not forget, Christmas is meant to be a holiday, that doesn't mean taking red-eye flights and landing in the middle of the night. You may want to take these less sociable flight times to get a better price, but arriving refreshed ready to eat drink and be merry is priceless. So if you have the option, take a flight scheduled for a more reasonable time. If you don't, set a reliable alarm, or get your hotel to give you a second wake-up call, to make sure you don't over-sleep and miss your flight!
8. Bring an entertainment pack for the kids
Keep children entertained on board and prepare an activity pack to keep their idle thumbs busy during the flight. Coloring books, stickers, a portable DVD player, smart phone games and apps are all good options. If these fail, then there's always the (light-hearted) threat of a lump of coal from Santa to make them sit up and pay attention.
9. Stock up on snacks
Do tensions start to fray when your blood sugar levels dip? Rather than buy an over-priced turkey sandwich or some stale mince pies, pack your own snack pack full of festive nibbles to keep hunger at bay. Squeeze in a few healthy treats to make up for all that seasonal over-indulgence; just check with the airline for any food and drink regulations that may prohibit you from bringing some produce on board.
10. Ease up on the eggnog
Indulgence in Christmas spirit should always be encouraged, but getting sozzled at the airport or in the air is ill-advised. You'll only end up missing your flight, annoying fellow passengers or arriving at your destination wishing you were already back home under the blankets. Save yourself the headache and hassle and wait until you've landed and can toast to good tidings without worrying about travel plans.
Source: skyscanner.com