American College of Trial Lawyers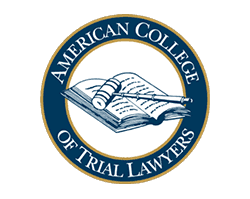 David Maring of Maring Williams Law Office was invited to become a member of the ACTL in 2003 and was admitted as a fellow of the College on November 1, 2003. Dave continues his membership in the ACTL and serves on the State Committee for the State of North Dakota. Daniel Dunn was invited to become a member in 2018.
Membership in the ACTL is by invitation, only. Membership is offered to experienced trial lawyers who have "mastered the art of advocacy and whose professional careers have been marked by the highest standards of ethical conduct, professionalism, civility, and collegiality." Fellows are selected from the United States and Canada and no more than 1% of the lawyers in a particular state or province can be selected.
Maring Williams Law Office has offices in Fargo and Bismarck, North Dakota and Detroit Lakes, Minnesota. The firm helps people involved in motor vehicle accidents, truck accidents, motorcycle accidents, unsafe products, construction site mishaps, oil rig worker accidents, and a variety of other cases which have resulted in catastrophic personal injury or death. All of the lawyers at Maring Williams are civil litigators. Their combined experience in the field of civil litigation exceeds 150 years.
Successful Verdicts & Settlements
Victories On Behalf of Our Clients & Community
Oilfield Accident $1.8 Million Settlement

Our client experienced a catastrophic ankle injury resulting in multiple surgeries while working on a work over rig in the Bakken Oilfields. He suffers from permanent damage to his right ankle and this recovery will help defer the cost of future treatment and decrease in future earning potential.

Rear-Ended Car Accident $2.35 Million

Our client was rear-ended while stopped on the highway and sustained significant injuries to his back, ribs and lung.

Oilfield Accident & Traumatic Brain Injury $19 Million

Our client suffered a traumatic brain injury (TBI), severe burns, and permanent disfigurement when he was involved in a gas explosion in the Bakken oil fields of western North Dakota.
Our Values
How We Provide Exceptional Legal Service to Our Cleints
Integrity

We abide by a strong code of ethics in serving our clients & our communities.

Respect

We respect our clients & their time, & we are committed to being responsive to their questions & needs.

Compassion

We care about every client who walks through our doors and will stop at nothing to fight for them.

Professionalism

We have more than 150 years of combined experience - and we're just getting started.

Excellence

We are proud to be one of the region's most-trusted and respected personal injury law firms.

Commitment

We are committed to not only fighting for your recovery, but to guiding you through the entire process.
Client Testimonials
Success Stories From Members of Our Community
- Donna L.

- S.A.

- Nicole A.

- M.B.

- H.D.