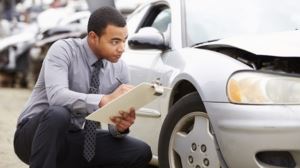 Having sufficient liability insurance is very important. The minimum amount of liability insurance that you can carry in North Dakota is $25,000 per person/$50,000 per accident. In Minnesota, minimum limits are $30,000 per person/$60,000 per accident.  In today's world, either amount is insufficient for almost anyone.  The reason is that if someone is injured in an accident which is caused by your driving, the claim against you is likely going to be greater than $25,000/$30,000, even if the injuries seem quite minor.  The ultimate recovery may not be greater, but there will be a period of time when you will have the uncertainty of not knowing whether you have enough insurance coverage to cover the claim.  On the other hand, if the injuries are more than minor, it is almost a certainty that your $25,000/$30,000 of coverage will be insufficient.  If a judgment is entered against you for more than your liability coverage, you will have personal responsibility for the amount over and above the coverage you have purchased from your insurance carrier.
Many insurance agents recommend that people carry liability coverage of $100,000 per person/$300,000 per accident.  Again, for most people, this coverage is inadequate.  The reason is that you never know if someday, despite your best efforts, you will cause an accident.  If you do cause an accident, you have no control over how seriously someone in your own car or in another car may be injured.  Medical costs are at an all time high.  It does not take long to incur medical bills of $10,000, $50,000, or more.  If the accident you caused results in someone being seriously injured and incurring significant medical expenses, you could easily end up being responsible for an amount greater than $100,000.  You should check with your insurance agent about higher levels, such as $250,000 per person/$500,000 per accident, or even greater.  Higher limits of liability coverage may be surprisingly affordable.
Underinsured motorist coverage (UIM coverage).
This coverage is probably the least understood motor vehicle coverage available.  What this coverage does is provide additional benefits under your own policy in the event that you are injured through the negligence of another driver who has insufficient liability coverage.  If you are severely injured as a result of the negligence of a driver who carries minimum liability coverage ($25,000 per person/$50,000 per accident) and your medical bills, alone, amount to $100,000, it is obvious that the negligent driver has insufficient coverage to pay all of your damages.  Under that scenario, you can make a claim against your own insurance company for additional compensation above and beyond the amount paid by the negligent driver's insurer.
The key, then, is to purchase sufficient UIM coverage to provide protection in the event of a catastrophic accident which happens to you (or another person covered by your policy) in a situation where the other driver has insufficient limits.  Even in situations where insureds, for example, have $500,000 of liability policy insurance, agents sometimes suggest that they cut corners by not having the same level of UIM coverage.  You should avoid this temptation.  Purchasing a sufficient amount of liability coverage and a sufficient amount of UIM coverage go hand in hand and are very important to your financial security.  You will likely find that the premium difference between purchasing UIM coverage at the same level as the liability coverage that you have purchased (as compared to having a lessor amount of UIM coverage) is not substantial.  Trying to reduce premium costs by cutting back on the level of UIM coverage that you carry is, generally, not a wise financial decision.
Seminar Materials/Motor Vehicle Insurance Coverage-select revisions
Contact our firm today if you have been injured in a car accident. We offer free initial consultations.