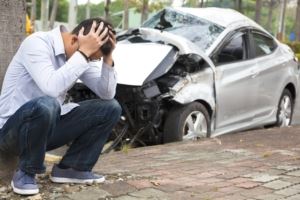 When you are involved in an automobile accident, you may not be thinking as clearly as you should. Knowing what to do at the scene could not only save someone's life, but it could also help you at a later point.
If you have been involved in an accident, the most important thing to do is immediately ensure the safety of the people involved in the accident. This means that you should take steps to secure the scene and your passengers or the occupants of the other vehicle from further danger. This may require that the vehicles be moved from a busy highway over to the shoulder of the road. The vehicles should also be checked for leaking gas or other potentially flammable liquid.
Next, the passengers or occupants of the vehicles should be checked for injury. Do not attempt to move injured persons unless their lives are immediately threatened by an immediate peril. If a person has a severe injury like a broken back or neck, moving them could cause permanent damage or injury. Call 911. If necessary, use landmarks, road signs or mile markers to assist with the accident location. Also, be sure to specify the type of emergency vehicles which will be needed such as an ambulance or fire truck. Allow E.M.T. personnel to examine you for injury.
You should get the name and contact information of the other driver(s) involved in the accident, as well as any occupants. Record the make, model and license plate number of all involved vehicles. You should also obtain, if possible, the vehicle owner's name and any applicable insurance information for the vehicle. It may also be important to record the exact time of the accident which can be reported to the police.
Provide complete, detailed information to the investigating officer. Do not discuss the details of the accident or how it happened with the other driver. You do not want anything taken out of context or attributed to you that you did not say. Remain calm even if the other driver becomes irate. If possible, take pictures to document the accident scene before the vehicles are moved.
Also, since many people who may witness the accident often leave the scene before the police arrive, record the contact information of any witnesses. If the witness cannot remain on the scene, make sure you provide the contact information to the investigating police officer so the officer can interview the witness at a later date.
With the overuse of cell phones on today's roadways, be sure to report cell phone use observed of the other driver to the investigating police officer. Cell phone records can be matched to the approximate time of the accident.
Contact Maring Williams Law Office today to discuss your accident with a professional injury lawyer.