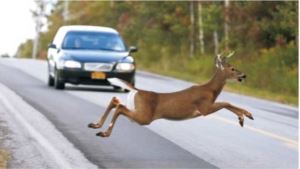 When you think of an animal-related personal injury accident, it usually brings thoughts of dog bites, right? Well, this isn't the only type of circumstance we will be talking about today. In this blog, we are going to discuss how to avoid crashes caused by animals, such as a dog running into a roadway, causing an auto accident.
Liability in these types of accidents caused by an animal may be difficult to understand and is heavily reliant on state laws.
There are many reasons legislation wouldn't want animals off leashes and running at liberty – breeding, bite risks, and especially driving dangers. Swerving to miss objects in the roadway, including animals, can easily lead to crashes. Imagine a motorcyclist having to avoid an animal – the dangers are overwhelming.
Here are a few tips to avoid serious accidents as a result of animals running in front of your vehicle:
Stay alert while behind the wheel – checking the radio or your phone for even a moment can make all the difference.
Avoid swerving to avoid an animal in the roadway unless you've had time to make sure it's safe to do so. While striking an animal with a car isn't something any of us want to do, it is many times safer than the loss of control caused by swerving.
Travel at or below the speed limit – slower speeds provide more distance to stop before hitting an animal or object in the roadway.
At night use your bright lights or high beams – this allows for improved vision and viewing distance.
If you've experienced property damage or injuries as a result caused by a loose animal, it's not an absolute guarantee that the animal's owner will be held liable. You'll need an experienced personal injury attorney to prove negligence and argue your cause. For more information on dog accident liability, call Maring Williams at (701) 402-6644 for a free consultation.