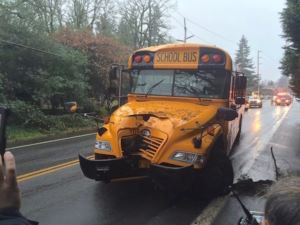 Although most of us have our own vehicles and drive where we want to go, there are times when mass transit is a better option. Some people will opt for a bus or train ride instead of hassling with unknown traffic problems and unforeseen vehicle equipment problems. Others will choose mass transit because it is more economical or because of the vulnerability of the passenger (a child or vulnerable adult).
Mass transit has different legal implications if you get into a crash, so we've created this post to help you better understand your rights as a citizen.
Mass Transit Risks & Negligence
When you choose a mass transit system, you assume that the driver is competent, that safety equipment is in place and well maintained, and that the journey will be as safe as possible. Unfortunately, there are times when someone else's negligence causes an accident and passengers are injured. For example, if a car sneaks around railroad crossing gates and stalls, causing the train to collide with the car, the vehicle driver is responsible for the collision and subsequent injuries. If a collision occurs because a driver fails to yield to a bus driver who has the right of way, the vehicle driver who failed to yield is accountable for the damages that result.
There are other times when mass transit systems are negligent and cause injuries to other drivers or their passengers. For example, if a bus driver falls asleep and rear-ends the vehicle in front of them, causing passenger injury, the bus company is accountable. If a train fails to signal its approach and causes a collision, the train company is accountable. If a bus driver fails to stop for a red light and hits another vehicle, the bus company is accountable.
Either way, when you are involved with a mass transit company, you may feel like you are in a "David and Goliath" type struggle. Often, mass transit systems are represented by big insurance companies and retain attorneys quickly when an accident occurs. You need someone on your side who can advise you on the worth of your claim and provide you with realistic expectations.
We wish you nothing but the best but sometimes crashes occur inevitably. If you've been involved in a crash, please give us a call at (701) 402-6644 and we can help you through this process and even have you come in for a free consultation. We are here to help!