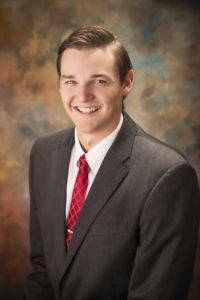 Jared Wall has joined our firm as of August 1st, 2016 and he's done some pretty impressive things so far in his life! And yes, he does look huge in some of his pictures. It's because he's 6'10", which makes the rest of us look extremely short when we stand next to him! Be sure to read the rest of this blog and get to know Jared better!
Jared J. Wall grew up in North Sioux City, South Dakota. After graduating from Dakota Valley High School, Jared attended Mount Marty College where he received an undergraduate degree in criminal justice and psychology with a Spanish minor. In addition, Jared served as a team captain on the MMC men's basketball team and was named to the GPAC All-Conference team as well as a CoSIDA Academic All-American.
Jared attended law school at the University of North Dakota. Before graduating Manga Cum Laude, he served on the Moot Court Board and competed as a part of the external moot court team. Additionally, in recognition of his oral advocacy skills, Jared was named to the Order of the Barristers.
After law school, Jared served as a law clerk for the judges of the South Central Judicial District headquartered in Bismarck, North Dakota. Jared is licensed to practice law in North Dakota. His practice is focused on plaintiff's personal injury and wrongful death law.
In his free time, Jared enjoys playing a variety of sports, spending time outside, reading, and spending time with friends and family. Jared resides in Bismarck with his fiancé Sarah and their dog Watson.