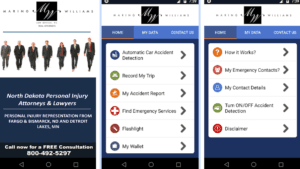 Did you know that there are over six million car accidents in the US each year? The good part is that many of them only involve physical damage to the car but there are accidents that involve personal injury to the driver, passenger or others involved.
If you have been involved in a car accident, there are a few things that you can do to protect yourself and your interests:
Stop-this one seems obvious but sometimes when your adrenaline is high, you don't always think straight. This is also true for minor fender benders. If you've been involved in an accident, you MUST stop.
Protect yourself-if you have flares, a cone, etc., set it up to help protect the scene, and yourself.
Call the police-even if there are no serious injuries, it's a great idea to call the police. You may need to file a police report to file a claim with your insurance company.
Make an accurate record-Using the Maring Williams Accident App, you can find emergency help and record specific details about the accident that can be crucial when making an injury claim. You can take pictures, record information of the other party involved in the accident and much, much more!
Protect yourself-one of the most important things you can do after an accident is consult your attorney. He or she can help protect your rights and make sure valuable evidence is not destroyed. Most times, insurance companies want to take statements immediately after an accident. It is very important that you consult your attorney before any statements are given. Your attorney can advise you on issues ranging from how to make sure you are fully compensated for your vehicle to how to make sure you are getting the best medical treatment available. Our personal injury attorneys work on a contingency fee basis, which means there is no legal fee unless the attorney recovers compensation for your injuries.
If you would like more information or would like to speak to an attorney, please call us at 701.241.4141.